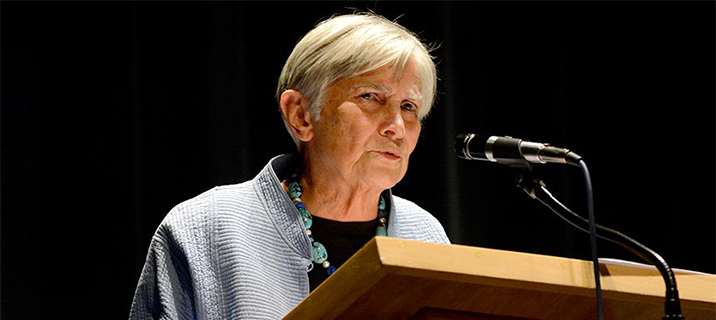 Diane Ravitch's Critique of Arne Duncan Falls Far Short of the Truth
A few months ago, I ran into NYU Professor Diane Ravitch at the Network for Public Education Conference in Chicago. People familiar with my background in education reform and my published views about her might be surprised to learn that our encounter was friendly. I told her I admire her remarkable output—books, blogs, tweets, speeches, etc.—even though we are on opposite sides on some issues. She said she welcomes debate and criticism as long as it's honest and civil. With that standard in mind, I take issue with her Huffington Post piece on Arne Duncan's Legacy, which goes way beyond the boundaries of truth and fairness. Virtually every statement she makes invites argument, but I'll focus on just a few. FACT: Duncan Stands Strong for Quality in Charter Schools No fan of charter schools, Professor Ravitch claims of Duncan:
He has done nothing to call attention to the fraud and corruption in the charter sector or to curb charters run by non-educators for profit or to insist on charter school accountability or to require charters to enroll the neediest children.
In actuality, every major speech that Duncan has given to charter school associations has called for closing bad charters, for more charter school accountability, and for charters to do a better job of serving the neediest children. That includes three speeches to the National Alliance for Public Charter Schools in 2009, 2010 and 2013. FACT: Duncan Supports Collective Bargaining and Opposes Vouchers Ravitch writes:
He has been silent as state after state has attacked collective bargaining and due process for teachers; He has done nothing in response to the explosion of voucher programs…
Wrong again. He has been anything but silent on both issues. Duncan, who has breakfast with the head of the National Education Association every month and meets frequently with the head of the American Federation of Teachers, has always supported collective bargaining and has always opposed voucher programs. At a 2011 town hall in Indiana with Governor Mitch Daniels, Duncan talked about maintaining collective bargaining and his opposition to vouchers. At the 2011 Education Writers Association conference, Duncan was also critical of Scott Walker's efforts to eliminate collective bargaining in Wisconsin. I personally saw him say it directly to Walker during an event in Wisconsin. He made the same points in Ed Week. There are numerous clips like this in which he speaks out against vouchers and the administration has taken a lot of heat for its unsuccessful attempts to zero out funding for the D.C. Opportunity Scholarship program. FACT: Duncan Has Worked to Strengthen Teaching Ravitch writes:
Because of his policies, enrollments in teacher education programs, even in Teach for America, have plummeted, and many experienced teachers are taking retirement.
There is zero evidence that administration policies caused a drop in enrollments in teacher education programs. There is some evidence that other factors play a role in causing teachers to quit, from low pay in a strengthening economy to shrinking education budgets to weak school leadership that leaves teachers feeling isolated and disempowered. Moreover, recent analyses suggest more teachers are staying in the field longer than previously reported. As for the drop in applicants to Teach For America, this might be related to the union-funded attacks on an organization that even AFT President Randi Weingarten admits has helped lift the teaching profession. The likelier factor, however, is the economy. In addition, Duncan has sponsored Teach to Lead, a partnership with unions and reform organizations to strengthen the teaching field by creating leadership opportunities for classroom teachers. FACT: Duncan Believes in Multiple Measures for Accountability, Not Just Test Scores Ravitch writes:
He has unleashed a mad frenzy of testing in classrooms across the country, treating standardized test scores as the goal of all education, rather than as a measure.
It's hard to count the number of times that Arne Duncan has said that accountability should be based on multiple measures, but a Google search for Arne Duncan multiple measures turns up 160,000 references. It's firmly embedded in the department's waiver policies now in place in 43 states. The fact is, the federal testing requirements have not changed since 2002. While federal teacher evaluation policies prompted some states and districts to add more tests, none are required and most are not needed. State and local administrators would rather blame the feds than take responsibility for locally-driven overtesting and excessive test prep, but the real culprits are at the local level. FACT: Duncan Stands Strong Against For-Profit Colleges Ravitch writes:
He looked the other way as predatory for-profit colleges preyed on veterans and minorities, plunging students deep into debt.
This claim is absurd. The plain fact is the administration promulgated the first-ever gainful employment regulation for for-profit colleges, defended it in court, and reissued another version after a successful legal challenge despite fierce congressional and industry opposition. FACT: Duncan Thinks Parents Deserve the Truth Ravitch writes:
Duncan has regularly accused parents and teachers of "lying" to students.
Duncan has never accused parents and teachers of lying to students about performance and college-and career-readiness but he has regularly accused schools and states of doing so by dumbing down standards. He usually uses the word "we," referring to the system. Policy Legacy: Choice, Accountability, Standards Duncan's legacy, as reported by Lyndsey Layton in the Washington Post: "Most Americans now accept public charter schools as an alternative to neighborhood schools, most teachers expect to be judged in some measure on how well their students perform on standardized tests, and most states are using more demanding K-12 math and reading standards." To that, I would add that most states have more flexibility in how they address achievement gaps compared to the previous administration. Best of all, more students are now graduating from high school and attending college. Personal Legacy: Courage and Kids Ahead of Politics It's also true that, as Layton reported, Duncan's strong hand in driving reform has aligned the Tea Party and the teachers unions in an effort to limit federal power. We'll see how that plays out, but if Congress goes too far in restricting federal oversight, future administrations will almost certainly be publishing alarming updates to A Nation at Risk and begging Congress for more tools to hold states accountable. Either way, any fair assessment of President Obama's longest-serving cabinet secretary would have to recognize his courage in challenging defenders of the status quo regardless of political affiliation and his undiminished passion for his life's work—fighting for children.

Peter Cunningham is the founder of Education Post and serves on its board. He served as Assistant Secretary for communications and outreach in the U.S. Department of Education during the Obama administration's first term. Prior to that he worked with Arne Duncan when he was CEO of the Chicago Public Schools. Peter is affiliated with
Whiteboard ...