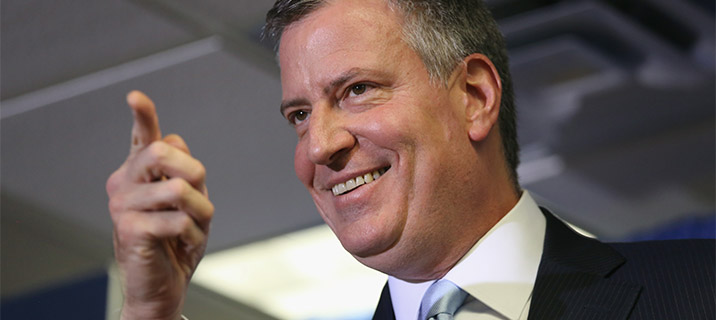 De Blasio's NYC School Plan: Cautious, Inoffensive and Inadequate
On Saturday the New York Times Editorial Board issued a measured rebuke to Mayor Bill de Blasio and his plan to increase student achievement in the city's schools. While the mayor's new educational initiatives are "wholly worthy," asserted the Gray Lady, the plan is "modest in scope," lacking in detail, free of benchmarks and subject to "patronage boondoggle." For a school system that "is failing at its most basic function," de Blasio's ambitions are inadequate. But what is an adequate scale for reform of a system that serves 1.1 million students, costs $27.6 billion a year, and has one of the highest annual costs per pupil ($19,818) in the nation? Where 68 percent of students can't earn a high school diploma in four years and only 30 percent of third-graders read at grade level? Where only 37 percent of the students who started high school in 2009 eventually ended up with scores high enough on Regents exams in math and English to show they were ready for college and career? Where the Civil Rights Project labels the school system the most segregated in the country? For starters, New York City Schools could use a lot more leadership, a little less politics and a willingness to embrace innovations that have boosted achievement in non-traditional schools. Modesty may be a virtue, but not in the context of reforming a school system that continues to cheat students and enrage parents. Now, let's be fair to Mayor de Blasio. After all, he's in a bind, clinging by his fingertips to mayoral control of the city school system, worn out by endless rumbles with Gov. Cuomo, outwitted by Success Academy's Eva Moskowitz, hamstrung by an overly cozy alliance with United Federation of Teachers (UFT) and handicapped by bromidic Chancellor Carmen Farina. And, really, New York City schools have struggled to deliver adequate educational programs for a long time. Now I date myself. Forty years ago, after attending P.S. 115 in Queens (a fine elementary school), I went to my local middle school, P.S. 172, which wasn't so fine. Academics were haphazard and girls were warned not to walk alone in the stairwells. My parents, both employees of the New York City Board of Education (my dad was a social studies teacher and my mom was a social worker), had the inside track on school quality. I was supposed to enter Martin Van Buren High School, which was overcrowded and low-achieving. So my parents exercised school choice (no charters available in those dark ages so this was not a right but a privilege born of relative financial security) and moved me and my sisters to a better public school district on Long Island. How is Van Buren serving its students decades later? The most recent New York City Department of Education data lists a 54 percent four-year graduation rate and a 16 percent college-and-career readiness rate. Call me a pessimist, but it seems unlikely that the mayor's proposals will do much for New York City students. His budget for these "reforms" is $186 million, 0.85 percent of the annual school budget. (For context, Mark Zuckerberg's grant to Newark Public Schools was 10 percent of the annual budget and then-Mayor Cory Booker raised an additional $100 million.) De Blasio plans to hire 700 more literacy specialists which, he says, will increase the percentage of third-graders reading at grade level from 30 percent to 60 percent; increase enrollment in AP and algebra courses; and infuse technology into classrooms. This plan, he claims, will increase high school graduation rates from 68 percent to 80 percent by 2016. Safe. Cautious. Inoffensive. And inadequate. Leslie Santee Siskin, New York University research professor, told Chalkbeat:
Those are lovely goals but it would take a lot of work and reconfiguring of practice to make them reachable.
Aaron Pallas, whom Diane Ravitch lauds as "one of the wisest education scholars in New York," said in the same article:
It's easy to set those kinds of aspirations. It's harder to figure out the specific strategies.
Non-de Blasio fan Jeremiah Kittredge of Families for Excellent Schools pointed out:
At the current rate, all New York City students won't be able to read at grade level until 2051. The incremental change proposed today won't fix New York City's education inequality.
Again, nothing comes easy in New York. And, to his credit, Mayor de Blasio has suggested a small collaboration with the city's increasingly robust charter school sector. But in framing his proposal as a grab bag of innocuous proposals, he's missing an opportunity to exercise bold leadership. This sort of executive vision would necessitate closure of chronically failing schools, emphasis on measurable benchmarks (de Blasio promised last year to "do everything in our power to move away from high-stakes testing") and expansion of charter schools, where 45,000 students sit on waiting lists. It would risk offending allies like the powerful UFT, which openly encourages parents to opt out of state assessments, protests school closings and vilifies charters. If the mayor continues to play it safe, then children will continue to be denied access to effective schools. But if he finds his inner tiger and strives to address the "serious challenges" referred to by the New York Times, then he may yet make his mark as an educational leader.

Laura Waters writes about New Jersey education politics and policy for WHYY's Newsworks and NJ Spotlight. She is a mother of four and has been a school board member in Lawrence Township, New Jersey, for 10 years. She blogs at New Jersey Left Behind.

Laura Waters is the founder and managing editor of New Jersey Education Report, formerly a senior writer/editor with brightbeam. Laura writes about New Jersey and New York education policy and politics. As the daughter of New York City educators and parent of a son with special needs, she writes frequently about the need to listen to families and ensure access to good public school options for ...