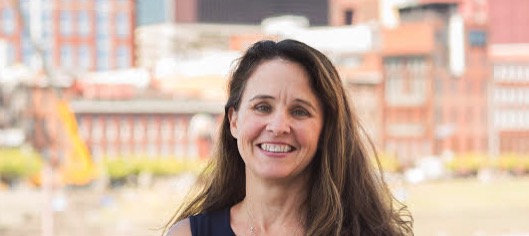 Coffee Break: Nashville's Wendy Tucker on Why She Advocates for Special Education, Parents and Marathons
Wendy Tucker is the co-CEO of Project Renaissance, a Nashville-based nonprofit striving to double the amount of high quality schools in the city by empowering communities and advocating for policies that will meet those goals. Tucker is a leading education voice in Nashville, and her main passions are improving special education and empowering parents. You were a criminal defense attorney for over 15 years before you founded the Special Education Advocacy Center in Nashville. Why the change? It is not a path I would have ever predicted, but I am so happy that it was my path. My daughter, Langan, has significant special needs. When it was time to determine what her school services would look like, starting at age 3, I took a crash course in special education law and policy. I was stunned at how difficult it was, both from a complexity standpoint and from the standpoint of actually getting the school system to provide her with what she needed. During that process, I was introduced to Erin Richardson, who had forged a similar path with her son. She equipped me with the tools I needed to navigate the system successfully for Langan, but it was still a daunting experience for my husband and I, and we both have law degrees. As I got to know other parents in the disability community, I began helping them with their special education needs. Word quickly spread that I was helping families, and more and more families contacted me. Erin had the same experience. So at some point, we decided to make it official, and Special Education Advocacy Center (SEAC) was born. I began my legal career as a public defender because I wanted to work against inequities in the criminal justice system. Then I had a front row seat to the inequities in the education system, so in many ways, it was a natural transition. From your special education law work, what needs improving in the special education realm? I have met some amazing educators through my daughter, but they are hampered by both a resource problem and a structure problem. I think everyone understands the resource challenge, which is not unique to special education. The thing many people don't understand is the structure issue. There is this huge separation that exists—starting at the teacher preparation level and continuing through the K-12 system—between special education and general education. Despite the fact that the research shows that both students with and without disabilities learn better when they are in an inclusive setting, the entire system is built to keep them separate. There are incredible things happening in schools and classrooms where students with disabilities are completely integrated into the school population with general education teachers and special education teachers collaborating to help those kids reach their highest potential. However, that's not the norm. It is not how colleges of education approach special education. It is not how district services are set up. It is not how many principals look at it. And that needs to change. After that, you moved into the mayor's office to advise on Nashville's education system. What was the most important thing you learned from your time there? Wow. That's a tough question. One of the most powerful lessons I learned during my years with Mayor Dean was that there is nothing as impactful as visiting a high-performing school that is serving at-risk populations well. Low expectations are pervasive in the special education world but are equally present when it comes to students in poverty, students of color and immigrant students. I will never forget the first time I walked into a school that was knocking it out of the park with a high-poverty, high-minority population of students. The energy in the building was palpable. The students were all engaged, and their love of learning was clear. College banners hung on the walls. You got the sense that everyone in the building, from the principal to the teachers to the staff to the students, really believed that these kids would succeed. On days when the work felt hopeless, I would return to that school and others like it for inspiration. You are now co-leading Project Renaissance , a nonprofit that looks to provide a high quality education for all children. One of those ways you are doing that is through organizing parent voices. Why is parent voice so important? Is it currently lacking? Parent voice is incredibly critical. Great teachers, high standards, rich curriculum—they'll definitely move the needle. But only with parents having a real voice in the conversation will we ever find ourselves in a place where all kids, regardless of their zip code or circumstance, have access to high-quality education. I have never met a parent who didn't want more for his or her child, so the narrative of blaming parents for low-performing schools really irritates me. With this being said, I do think that parental involvement is challenging. There are so many barriers to that involvement, especially for parents of low economic means and for immigrant parents, two large populations in Nashville. Transportation. Child care. Time. Language barriers. If we are going to really engage parents and elevate their voices, we have to do everything we can to remove these barriers. I'm proud of the work that our team has been doing in that regard. They provide transportation, child care, interpretation services, meals, removing barriers and also making sure the parents get the message that their time and input are valued. That is what is often missing in attempts to get parents engaged. As our network of parents in Nashville—Nashville Rise—continues to grow, and as I meet more and more of these amazing parents, I can't help but believe that great change is coming. I hear that you love to run. What's your most memorable marathon? That would have to be my first marathon—Chicago in 2001. I was running in honor of my stepfather, John Langan, who passed away the year before. The race was less than a month after the terrorist attacks on 9/11, and there was still so much fear in our country, especially around large public gatherings. Despite that, there we were, tens of thousands of runners, lined up on the streets of Chicago, with more than a million spectators cheering us on, chanting "USA! USA!" as we ran past. Complete strangers were hugging. Lots of folks were decked out in red, white and blue. One guy ran the whole 26.2 miles carrying an American flag on a flagpole. There was this incredible collective spirit. I wasn't fast by any stretch, and I had trouble walking for a week, but I was so proud to be a part of that day.

Photo courtesy of Wendy Tucker.

Zack Barnes is a middle school teacher in Nashville, Tennessee. He is currently pursuing a doctorate in literacy studies at Middle Tennessee State University.