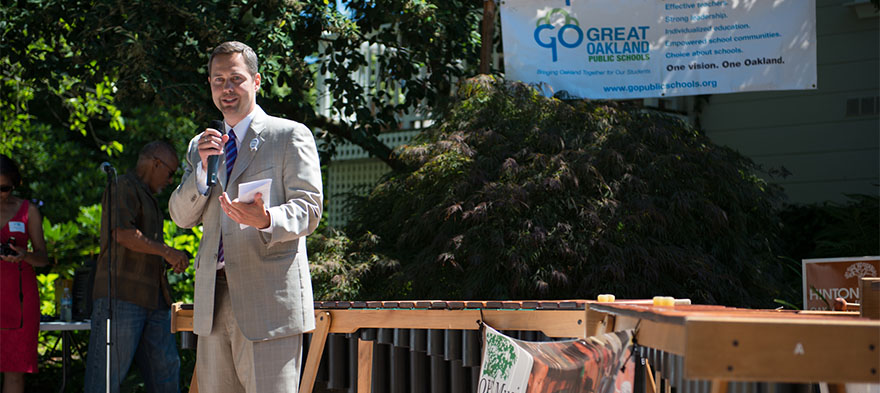 Coffee Break: Jonathan Klein on Oakland Schools, Jelly Jars and the Steph Effect
Everybody talks about how important quality public schools are to overall civic health, but not everybody takes the time to get involved in creating them, outside of their own. Jonathan Klein has devoted much of his career to improving Oakland's schools and to rallying the community behind the effort. He founded GO Public Schools Oakland in 2009, and the nonprofit was recently honored with the League of Women Voters' "Making Democracy Work" Award for its "efforts to inform, involve and mobilize Oakland families in improving the city's schools." Building on momentum from its success in Oakland and interest from other communities, GO has launched a statewide effort to support families, educators and community allies in creating similar local coalitions across California. Earlier this year, GO partnered with local education and community leaders to launch GO Public Schools West Contra Costa. Oakland's kind of known as the Bay Area's just-as-cool, not-so-ridiculously-expensive alternative to San Francisco. Does that hold true for coffee, too? Any cool, 2-bucks-a-cup coffee spots you recommend? I'm a Peet's man myself. My basic order is their largest coffee cup to go with extra room for milk. Can't do half-and-half because I drink too much coffee. I'm not fancy—just regular coffee and plenty of it. I mostly grind and brew their beans at home and take a mug on the road in an old jelly jar with a lid to go. As someone who's been heavily involved in the public education community for so long, give us your take on the current state of the schools and how do things look on the horizon? We have reasons to be hopeful—and we have a long way to go. If you're an African-American or Latino child in Oakland, your chances of ending up a high-school graduate are substantially better than they would have been five years ago. That's a really big deal, and it's taken a lot of hard work—by teachers and principals, by kids and families—to make that happen. That means hundreds of kids now have a shot at college, at professional training, at jobs and economic security, who wouldn't have in the past. That means our community is richer in every sense of the word. And it's not just that graduation rates are increasing—racial gaps are decreasing—even as everyone is moving ahead. And not coincidentally, fewer kids are being suspended and expelled; the suspension rate is down by half in Oakland. That's huge, because for many kids, those out-of-school suspensions become first steps on a path into the criminal justice system. Those improvements are big. But we can't be satisfied with that. The truth is, your chances of coming out of school with the skills you need aren't nearly good enough—especially if you are a Black or Latino student, if you're growing up in a low-income neighborhood, if you have a disability, or if your first language is other than English. That's why I'm so proud that the GO Public Schools Oakland community is a vigorous part of long-term, serious work for change. In January, Mayor Libby Schaaf and Superintendent Antwan Wilson teamed up to launch the Oakland Promise focused on tripling the number of Oakland students who graduate from college over the next 10 years. They've already raised $23 million for these new supports for students and families cradle-to-career. Last month, Oakland school district leadership launched the Oakland Public Schools Equity Pledge to re-imagine system-level governance structures and address equity issues among district-run and charter schools. What conversations about the schools there do you hear too much? And what conversations would you like to hear more? What's inspiring about Oakland is the degree of passion so many people share for making sure every single kid here has a real chance to succeed. What's sometimes frustrating is that we can spend a lot more time on how schools are organized and run—meaning, charter or district, mostly—rather than the many pieces that contribute to the experience that kids have in school. I understand why that one question inspires a lot of energy, but it's sucked a lot of the oxygen out of the room. I wish we could spend more time on learning from models of success, district-run or charter—and you can absolutely find them in both. We also might find more common ground and the will to act by spending more time learning and listening to what families and students want—what lures them to the schools that have the highest application rates? It's not just charters, and it's not just the schools in affluent neighborhoods. How can we be a community where every school is focused on attracting families, and understanding what they want and need? And perhaps most importantly: Twenty years into my work in public education, I am still white, male, and privileged. Like all of us, my life is deeply impacted by the racist constructs of our American culture. And as a result of many conversations, missteps, study, and reflection, I recommit every day to being an ally and a learner. Over the years, I've come to deeply honor the incredible leap of faith it takes for African-American moms and dads and other parents of color to send their babies to our public schools—particularly given our collective results and failure to consistently provide love, safety and the expectation of success. We need more discussion about why so many of us white leaders and educators have been and remain so seemingly unwilling to change and re-imagine public education systems that have for decades provided inequitable opportunities to families and children of color. Oakland has tolerated the opportunity gap in public schools for decades. And white and more privileged families have always been able to opt out for private and independent schools that they perceive to be better able to educate their children. What's GO's role in those conversations? GO exists to empower families, teachers and the larger community to advocate for an excellent public education. We work to provide the community with information, develop leaders and advocate for policies in order to ensure that all children in Oakland have the opportunity to attend a great public school that will prepare them for success. In the charter-district conversation, our role is to do a couple of things. One is to help the community understand what high-quality education looks like, or can look like, and to advocate for that vision. And to be clear, no sector has a monopoly on excellent schools. We can and do point to examples everywhere in the public school world. A second piece of our role is to help people see past what has traditionally been framed as zero-sum choices, and to think about what it means to learn from both sectors, to push for quality in both sectors, to find ways for them to coexist in ways that benefit families, and to hold both sectors accountable. Let's be clear: there are charter schools in Oakland that aren't serving kids well, and that should be no more acceptable than it would be in a district-run school. The district-charter debate there seems particularly heated, as we've seen in the debates over the Oakland school district's common-enrollment proposal. Your take on the debate and on common enrollment? There are valid points on all sides of the district-charter debate. Charter advocates question whether students in charters receive equitable resources from the system. Charter critics point to charters that turn away kids with complicated learning needs or discipline problems. Those are things that need to be taken seriously and addressed, not ignored. But there's no turning back the clock to a time without charter schools in Oakland—that discussion is over. The moral challenge for all of us is to ensure the kids have the best chance to get a great education no matter what kind of public school they attend. And that we are holding expectations high for every sector for students' learning and for being an ethical participant in our community. Common enrollment is a perfect example. It's logistically pretty complicated. It requires both the district and charters to do a nontrivial amount of work, and to work differently in ways that have some costs for them. But from a family's perspective, it's just a no-brainer that finding the right school for your kid has to be straightforward. It shouldn't be a second job. That's not fair, and it's especially not fair to low-income families that may be working multiple jobs and have less time to spend choosing schools. Making the process streamlined and clear is a basic duty for all of our public schools, and we will get there. What's the Steph Curry vibe there? Is the whole city as gaga over him and his family as the rest of the country? Or does Oakland play it cool with its sports stars? The Warriors are an incredible team. I grew up watching Magic and Kareem's "Showtime" Lakers, and it's been a thrill for our whole family to cheer on Steph and company as they make history. And the more success Steph has on the court, the more engaged and out in the community he seems to be. He and other Warriors players are regularly in schools and connecting with youth. The Warriors' motto is "Strength In Numbers," and they play a fast-paced, unselfish game—always looking for the team's best opportunity to score. Time and again, Oaklanders are bringing that spirit to the work of educating our children.

Photo courtesy of GO Public Schools Oakland.
Michael Vaughn was the founding Communications Director of Education Post. Prior to that, Mike worked for 18 years in the communications offices of two urban school districts. He served in a variety of communications roles for the Chicago Public Schools starting in 1996, shortly after Mayor Richard M. Daley took control of CPS, and eventually served as the district's Communications Director until ...