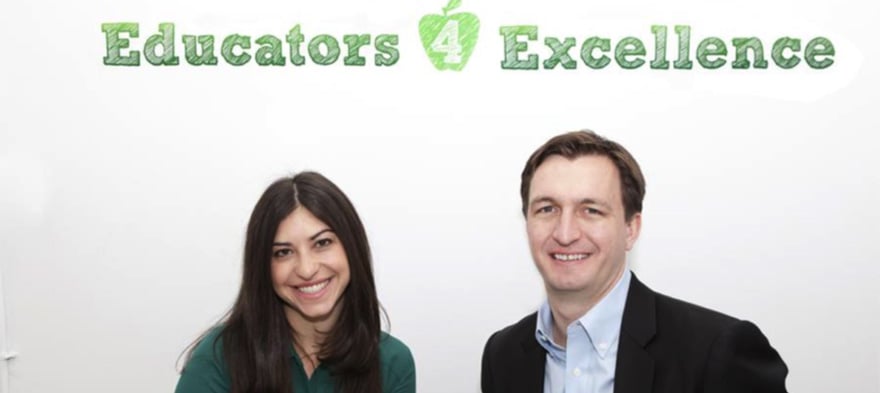 Coffee Break: E4E on Entering a New Chapter and Working on Reform From the Inside Out
Recently, the teacher-led reform group Educators for Excellence (E4E) announced a rebranding that includes an updated set of core principles and a new look for the six-year-old organization. Today E4E has six chapters (Boston, Connecticut, New York, Chicago, Minnesota and Los Angeles) and more than 25,000 members, who are united around a common set of values and principles for improving student learning and elevating the teaching profession. On February 10, E4E held an event at The Newseum in Washington, D.C., featuring teacher and student panels moderated by former Education Secretary John King and former D.C. Public Schools Chancellor Kaya Henderson. Co-founders and Co-CEO's Sydney Morris and Evan Stone shared a few thoughts as part of our weekly "Coffee Break" series. Do you drink tea or coffee and how do you take it? Sydney: I am that person in Starbucks with the "grande sugar-free vanilla soy this that other something else latte" order. Evan: I, on the other hand, prefer a simple black coffee. I attended your rebranding event in Washington, D.C. where you unveiled a new statement of principles. How do these new principles change and advance the organization you founded six years ago? The Declaration of Teachers' Principles and Beliefs is E4E's founding document, written by a dozen New York City teachers at the inception of our organization in 2010. Today, we are a nationwide community of 25,000 educators. With significant growth in the size of our community comes a diversity of perspectives and opinions that shape who we are and the vision that drives our work. At the same time, the issues and debates that brought founding members together to launch this effort have also evolved. So, in celebration of that growth and change, we decided to revisit our Declaration in true-teacher led fashion—through the guidance and leadership of our members. The process included members from all of our chapters, representing the diversity of our organization, where they engaged our community through membership surveys and focus groups. The revisions to the Declaration are grounded in their research findings and the 30+ policy papers written by E4E members across the country. The Declaration continues to embody our broader organizational goals of improving student outcomes and elevating the teaching profession, while demonstrating our teacher-led approach to deciding what issues to work on and what policies best support our vision. Many dimensions of the teacher profession have been resistant to change: teacher prep, evaluation, compensation and career ladders are a few obvious examples. Your organization has been pushing for these kinds of changes for years. Is there reason to believe the profession is more ready to change now than when you began? With the political climate so divisive at the moment, there is greater uncertainty from policymakers about how education may change over the next few years. At the same time, the shifting landscapes has also created an opportunity to build more diverse coalitions with labor, civil rights, civic and community-based organizations on the local, state and national level. By working on bipartisan issues together and maximizing the opportunities where we align, such as Every Student Succeeds Act (ESSA) and Deferred Action for Childhood Arrivals (DACA), we may be able to come to an agreement on some of these other matters. Although it may seem slow at times, we have seen more changes related to the teaching profession in the last decade than in the 50 years before. We have innovative contracts, career ladders, shifts to make tenure a more significant professional milestone and more meaningful evaluation systems in districts and states across the country. We are also seeing a shift in the demographics of the teaching profession and with that, a shift in the perspectives and opinions of teachers. We are optimistic that these trends will continue because these changes—shifts that will elevate the teaching profession—are what educators across the country are telling us they want to see. Educators for Excellence has always pursued a strategy of reforming the field from the inside out—working with active classroom teachers and elevating their voice in policy debates. Where have you had the most success with this strategy? It really is about building a movement of forward-thinking teachers through grassroots organizing in communities across the country and helping them realize the changes they want to see in their schools, districts, unions, states and even at the federal level. E4E teachers have crafted recommendations in more than 30 policy papers; shaped new legislation, district policies and union resolutions; and elevated their voices through thousands of media stories and advocacy actions on issues such as school climate, teacher evaluation and school funding. We have seen the most success when there is an active group of educators who "own" the issue; where they don't stop at the policy paper and continue with creating an advocacy campaign to promote their recommendations through all possible channels. This year alone, we expect to see up to five laws pass or shift on issues including school funding, school climate, tenure and teacher preparation, in part because of our teachers' leadership. Their amazing passion for their students and the teaching field is incredibly compelling with their colleagues and policymakers. Teachers unions have a love-hate relationship with education reform. At times, they partner with reform, on Common Core for example. At other times, they resist—test-based accountability for example. How can we work with unions to advance reform? As you mentioned earlier, we are about working from the inside out. More than 85 percent of E4E members are union members and hundreds of E4E teachers are also elected union leaders. Unions are powerful levers for change, and we encourage our members to become more engaged within their unions by going to meetings, voting and running for leadership positions to ensure that their voices are represented. Teachers want their unions to focus on improving student achievement and teacher quality, and we envision an education system where forward-thinking union and district leaders can work together to provide all students an opportunity to succeed. We have a new administration in Washington and a new secretary of education, Betsy DeVos. What has she said about teaching and what, if anything, do you expect from the Trump administration with respect to strengthening the teaching field? The truth is that we know so little about Secretary DeVos and the Trump administration's vision for improving our education system. It's a concern that our members have shared as well—and it's one of the reasons why an overwhelming 91 percent of our membership opposed Secretary DeVos' nomination. So, the answer is that we don't know exactly what to expect. Our message before DeVos' nomination and after has been consistent: Teachers must have a role in shaping the policies that impact their classrooms and their careers. And that is not a political message that hinges on a particular nomination or administration. Our hope is that Secretary DeVos will work to build bridges across party lines, including by engaging those who disagree with her. But above all, as someone who has not previously worked in public education, we urge her to listen to and learn from public school teachers—those who will be on the front lines of implementing any changes—and to actively include their ideas in decisions that impact students and educators. Just as Educators for Excellence is entering a new chapter, what's ahead for education reform? Any reflections on what reform should do differently? We are living in a very different environment than we were before Jan. 20. When it comes to federal education policy, we can't count on the "federal backstop" that existed to hold states accountable or protect our most vulnerable students. Therefore, the role of state and local advocacy is even more important than ever before. Further, there's a new range of issues that teachers have always cared about but are now even more urgent, such as school climate and DACA. We think the education reform community needs to build broad-based coalitions by collaborating with a wide set of stakeholders to win changes that will ensure a more equitable and excellent education system. This means listening to diverse perspectives and prioritizing pragmatic changes that students and teachers need. The most effective and lasting reforms will be won when educators are working alongside students, parents and community leaders.

Peter Cunningham is the founder of Education Post and serves on its board. He served as Assistant Secretary for communications and outreach in the U.S. Department of Education during the Obama administration's first term. Prior to that he worked with Arne Duncan when he was CEO of the Chicago Public Schools. Peter is affiliated with
Whiteboard ...