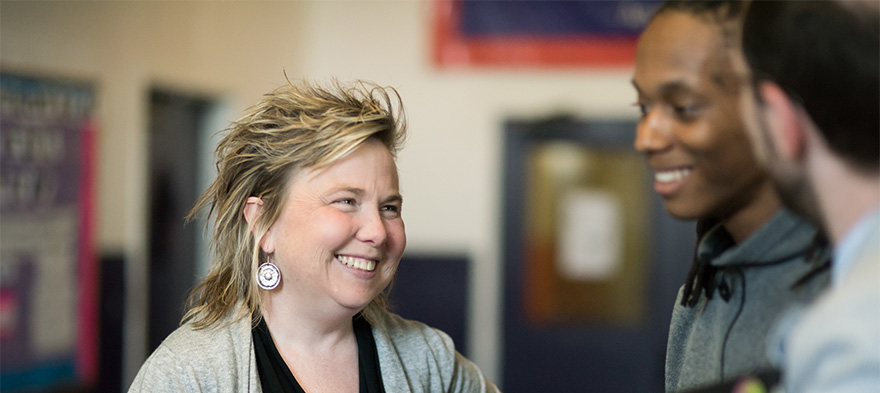 Coffee Break: Charter Leader Beth Anderson on TFA Inspiration, Moments of Triumph, and 'Talkin' 'bout a Revolution'
Beth Anderson, founder of the Phoenix Charter School Academy Network in Massachusetts, thought she knew what a hard life looked like—until she became a teacher in Los Angeles. "I will never get over or forget what I saw in Los Angeles," she says when she reflects on her years in the classroom. Anderson's response to what she continues to see happening with kids and schools is not only bold, but life changing for the kids she sees as abandoned by the system. She decided to create a new kind of school largely motivated by the urban high school dropout crisis, as well as the lack of rigorous, college preparatory schools for disadvantaged students. Phoenix schools are open-enrollment, college preparatory public high schools that challenge disconnected students with strong academics and unwavering support so that can build themselves into resilient, self-sufficient adults. Phoenix currently operates three schools in Chelsea, Lawrence and Springfield. It has a 77 percent college enrollment rate, and a 71 percent persistence rate. Only someone with high energy starts three schools for at-risk youth from scratch, so the question is, is it coffee or tea that gives you that jump start and keeps you going for your kids? A good medium roast coupled with the energy of the amazing teenagers that I get to work with. Meet some of our kids and you won't need coffee to get out of bed. What made you say, "I'm going to start a school for the kids that the system has left behind, the kids that so many others have written off or given up on?" Was there a watershed moment or was it an idea that built up over time? Inspired by Wendy Kopp taking an idea to build a landscape for change, I joined Teach For America (TFA), in their founding years, after graduating from Brandeis University. Two years of TFA in the early 1990s at a tough inner-city Los Angeles kindergarten opened my eyes to how truly challenging it is for kids shunted to the margins to access first-rate education. That experience set the course for the rest of my life: disrupting the status quo and removing barriers between older youth and the economic freedom that comes from educational achievement. That said, I cannot claim to have planned or foreseen the inception of a growing network of high-performing charter schools. I started Phoenix Charter Academy, after years of working with bright and talented young people in Lynn and Chelsea, Massachusetts who had been given up on and had nowhere to turn. I knew I wanted to create an educational pathway to the middle class, but didn't have a clear strategy until I discovered the public charter school movement. Once I realized the flexibility of public charter schools, the freedom they offer to be innovative and entrepreneurial around educational models, and removing barriers for disconnected youth, I knew this was the optimal route for creating the change I was so committed to. So, I took the charter model and applied it to off-track kids in Chelsea, like those I first worked with in L.A. Clearly this need wasn't unique to Chelsea, as many other Gateway Cities across the Commonwealth struggle to provide great educational opportunities for their youth. And so with time this drive crystallized into a growing charter management organization that has honestly only begun to answer the call. We all know that there is great demand for charter seats in Massachusetts but what does that demand look like at your schools? How do you reconcile the need to stay, in your words, "patient and focused," while also meeting the demand in your communities? At heart, I am and will always be a practitioner. By necessity, however, I've become a social entrepreneur, and now, an advocate for education reform in Massachusetts. Despite radical reform and proven success, public charter schools are under attack, and I feel called to protect Phoenix and the very system that allowed us to form. If the charter movement isn't strong then young people are at risk, especially our students who have no other option. Phoenix has dreams of growth, as families, kids and community leaders in Holyoke, Worcester, New Bedford and more are struggling with how to support their resilient and talented off-track young people. It's a disservice to these communities if we don't have the opportunity to answer the call, so I will continue to fight to make that happen. I'd imagine you've witnessed and been a part of so many moments of triumph and accomplishment with your students. Is there one (ok, we can do two) that really stand out in your memory or confirm for you why you do this work? While our work is filled with countless moments of triumph, the first Phoenix graduation in 2008 stands alone in its power, the first true proof that #ProvingItsPossible is a mission. These were my original Phoenix scholars who took a chance on a school—and an idea—that hadn't been realized. I had chased these students off the streets into school, sometimes got them out of bed and fought tooth and nail with them to believe in their own capacity for transformation, to beat the odds, and succeed. Watching those seven kids get it together, learn to believe in themselves and cross the graduation stage full of pride and gratitude, confirmed not only the why of the work but that it works. Back then, I was no CEO and we had no fancy set-up or big staff. I walked through the space at Bunker Hill Community College with those founding graduates, practiced the speeches, made the invites and created the graduation certificates. Someone's boyfriend brought balloons and snacks. It was grassroots; it was small town; it was imperfect, and, most of all, it was power at its most potent. I remember sitting, alone, after our staff and founding graduates had left our small post-event party at my house. I put Tracy Chapman's "Talkin' 'bout a Revolution" on repeat. That song got me through those early years. When it got hard, when I had doubts, that song was my fuel. "Finally the tables are starting to turn" is written across the walls of my now CEO office and continues to serve, like that first class of graduates, as inspiration for our work. Can you give us a little window into Beth Anderson outside of Phoenix? Any hobbies, interests, or even just movies you love to watch over and over? Well, Phoenix is pretty consuming and through my role as the board chair of the Massachusetts Charter Public School Association, I have spent a lot of time being an advocate for increasing access to public charter schools. I am lucky to be with my love, Susana, who keeps me sane and makes sure that life includes more than revolution. My daughter Ciara and son Galileo (ages 10 and 1.5 ) fully fill up that space. I am trying to include them in my love of science-fiction movies (I even named my Phoenix senior leadership team my "Jedi Team") and my absolute adoration for the New England Aquarium. I love being a lesbian activist, mother and wife enjoying the fruit of a pretty successful struggle for access. It is the fuel to everything I bring to my work and life.

Photo courtesy of Genevieve de Manio Photography.

Erika Sanzi is a mother of three sons and taught in public schools in Massachusetts, California and Rhode Island. She has served on her local school board in Cumberland, Rhode Island, advocated for fair school funding at the state level, and worked on campaigns of candidates she considers to be champions for kids and true supporters of great schools. She is currently a Fordham senior visiting ...