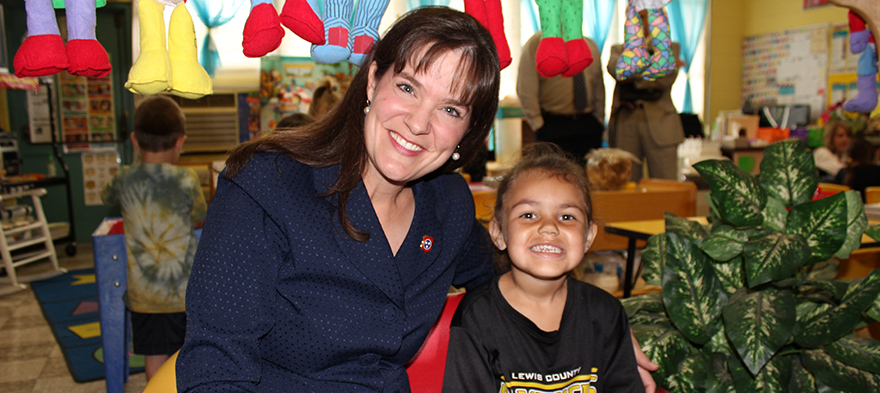 Coffee Break: Candice McQueen on Equity, Lattes and Staying on Top
If I had to pick one word that critics and supporters of Tennessee's Education Commissioner Candice McQueen might agree on to describe her, it would probably be "engaged." She's one of the highest profile state education leaders in the country. She's constantly appearing in national and local education news stories, shaping the conversation around improving schools. She's getting out of her office and talking to parents, teachers and others in local communities around the state. She's visiting schools and working hard for education reforms she believes in, while at the same time, being flexible and making adjustments when things aren't going as planned. McQueen recently took a little break from her day-to-day to answer a few questions for Education Post's Coffee Break, and shed some light on maintaining Tennessee's status as an education leader, her state's approach to the new federal education law, and how she takes her coffee. Are you a coffee or tea drinker? How do you take it? I'm a coffee drinker, with a little cream, but my preference is a non-fat latte. Tennessee has been a leader in reform for some time now—since winning Race to the Top? How does this plan keep Tennessee in a leadership role? Our work since I entered this role in 2015 has been to build on our successes, learn from what has worked so far, and take our schools to the next level. We first developed a strategic vision and plan with our stakeholder community called Tennessee Succeeds, which was released shortly before ESSA (Every Student Succeeds Act) was signed. That became the framework from which we built our ESSA plan. I believe our ESSA plan continues the work and the policies that are foundational for our success but with improvements based on lessons learned. For example, we continue to strengthen our accountability system and expanded our focus on equity and supporting all children, and we provided more clarity and more options within our school improvement work. We were also able to fold in the work we've started over the past year to increase both access and quality in early learning, particularly in reading. Our ESSA plan also focuses on specific new areas that help us align to our bigger vision in Tennessee around postsecondary and workforce readiness, which we've capitalized on with Tennessee Promise and the governor's Drive to 55 initiative. Within ESSA, we have a new Ready Graduate indicator that looks at whether all students are getting access to early postsecondary opportunities as well as performance on indicators like the ACT and the ASVAB for the military. We are also taking the opportunity to explore innovative ways to support teacher and principal pipelines through residency models, which can be particularly helpful in our rural areas, which includes two-thirds of our districts. You're one of 17 states that chose to meet the early deadline for submitting your state education plan. Why not wait until September and the following year to implement? Would more time help? Our context here is important—mainly, we had a strong foundation and momentum from the Tennessee Succeeds strategic plan, which came out just a couple months before ESSA was signed into law. We had also just written and been granted a new waiver from ESEA (Elementary Secondary and Education Act). So, we had a head start on this work, and it was easy to continue that conversation with our education community. We knew the direction we wanted to go. For us, ESSA was an opportunity to refine based on feedback about Tennessee Succeeds and align our broader work, particularly in accountability. It was also a chance to hear from thousands of Tennesseans and get their feedback on a range of educational topics. That in and of itself helped to ensure we were on the right path to move forward. I'd like to ask about the minimum number of minority students schools need to have before they're accountable (N size/sub-groups for the wonks out there). You and Michigan chose 30—the highest of all states. Also, I get why you're combining Black, Hispanic, and Native American students ( I wrote about it here ), but why not drop the minimum to 20 and only combine when schools don't reach the threshold, as some have suggested? Tennessee is strongly committed to supporting all students, especially those in historically underserved student groups. Tennessee is a largely homogenous state with pockets of districts and schools serving a large, diverse student body. The state's accountability framework is designed to hold as many schools accountable for subgroup performance as possible while maintaining statistical reliability, validity, as well as providing safeguards to ensure student information is protected. We continue to use 30 as our n-count threshold in order to increase the confidence of the sample in our model. This is considered a best practice from a statistical basis to minimize potential sampling errors. We are very concerned about ensuring that the minimum n-size we set for accountability purposes provides us with data that we view as valid, reliable, and statistically sound, especially given that these results are used for key decisions, including state intervention in low-performing schools. Given the methodology we use when we look at schools' effectiveness across all of our indicators, and based on IES research on statistically sound practices, we do not get the reliability and validity we need at n-counts lower than 30. We use additional safeguards, including 95 percent confidence intervals, when we evaluate school performance. We want to have confidence that when we say a school did not meet a target that they actually did not meet—and we believe that is only possible at an n-size of at least 30. We also have a robust accountability system at the district level. So, if a particular school does not meet the n-size for a given subgroup, it's very possible if not probable that the district will. This ensures there is a focus on these particular students. As you noted, if a particular school does not meet the n-size for a particular subgroup, we combine Black, Hispanic, and Native American students into a single subgroup in order to hold as many schools as possible accountable for the performance of students from historically underserved backgrounds. In total, more than 43,000 Black, Hispanic, and Native American students would be excluded from subgroup accountability if we did not use the BHN combined racial/ethnic subgroup. Additionally, for transparency purposes, Tennessee will publicly report at the level of individual racial and ethnic groups, and the n-size will be lowered to 10 reporting purposes. The state report card will include the progress of all subgroups, including each racial/ethnic subgroup, and data will be disaggregated, including progress against subgroup AMO targets. We believe this addresses any concern that the performance of an individual racial or ethnic group could be masked by the performance of another in the aggregated group. In recent years, there's been a lot of drama over school choice—especially in Nashville. Is there a good case for more choice in Tennessee right now or do most parents have enough high-quality options? What about in rural areas? Data transparency empowers choice, and we have spent considerable effort to make sure our data is accessible and understandable, which is something we'll continue to build upon through ESSA and our new school accountability framework and report card. Some of our highest-performing schools in Tennessee are Nashville charters, and we continue to want to learn from and replicate our highest-performing options. Our goal is to ensure we have high-quality public schools in every district in the state, and our data shows where we have room for improvement. In rural communities, we see many pockets of excellence, and we want to try to learn from what those schools are doing well and spread those practices elsewhere, whether it be partnerships with industry, offering AP classes, or introducing academic programming that opens doors for students. The architect of the new federal education law is your Senator Lamar Alexander, who is a former Tennessee governor and a former education secretary. He's making a big push for local control. Does that empower you—as the state chief—or create a challenge because you are not at the local level? Put another way, what is the state's role under the federal education law. We actually see local control in ESSA as primarily state-level empowerment where we influence goals, alignment and decision-making in both districts and schools. The state is now fully empowered with setting accountability frameworks that ultimately shape priorities, resource allocations, and behavior, and we are taking this significant authority and responsibility seriously as we have crafted a plan that at every level is about serving all students.

Lane Wright is Director of Strategic Growth at Education Post. In addition to this role, he tells stories that help families understand how their schools are doing, how to make them better and how policy plays a role. He's a former journalist and former press secretary to Florida's governor, and he's got a knack for breaking down complex education reform policy issues into easy-to-understand ...