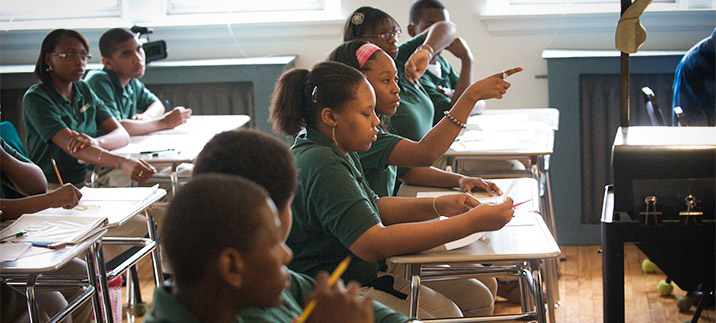 Charter Critics Don't See It: Local Educators are Driving Change in New Orleans Schools
I'm a Louisiana native who has committed his life to transforming and empowering the lives of our youth in New Orleans. As a 12-year veteran educator in New Orleans, I am routinely inspired by the commitment I see from New Orleans-born teachers like Chris Herrero and Jahquille Ross, who are deeply invested in their schools and this city's children. Often, it frustrates me when I hear the wildly inaccurate claims made by education reform critics outside of New Orleans, many of whom have never stepped foot in a school here. These critics like to claim that charter operators are getting into education to make money or privatize public education. They say our schools are singularly focused on "teaching to the test" and fail to provide an enriching learning experience that honors New Orleans culture and traditions. That is not what I see every day from the students, parents, teachers and school leaders who routinely go above and beyond, who have driven academic gains previously unheard of in New Orleans public schools. That is not what I see from school leaders who have embraced this city's unique traditions, and strive to offer classes and extracurricular opportunities that allow students to explore them. My firsthand experience working in education here could not be more different from the assumptions I routinely hear made about our schools, so I thought it was important for me to set the record straight. After graduating from Southern University, I worked as a financial analyst before making a career change. While I briefly considered law school, I knew I had a calling and the passion to teach. I entered the classroom at Edna Karr High School in 2002 and spent seven years as a teacher and Assistant Principal before becoming the principal at Alice Harte Elementary School. In that time, I have seen countless educators—veteran and new—pour their hearts into supporting students and their families. Every day in InspireNOLA, I am often inspired by the numerous mentoring and wrap around services I see our staff members provide to help our youth succeed. Our teachers and staff members work extremely hard to strengthen our student's emotional and social well-being through counseling and mentoring. Weekly our teachers and administrators are providing counseling and advisory sessions to help our students overcome obstacles they face in life. By focusing on strengthening the emotional and social aspects of our youth, we have seen significant academic gains in our students and our behavior issues have declined. Over the past few years, those efforts have paid off. In 2014, Karr earned a B rating from the state, and Harte earned an A and "Top Gains" status. Eight years earlier, after reopening post-Hurricane Katrina, both Harte and Karr were rated as D schools. I am currently the CEO of InspireNOLA—which runs both Karr and Harte—one of the highest performing charter management organizations in the city. We have seen significant progress in student achievement city-wide as well—the graduation rate has increased by nearly 20 percent since 2004, ACT scores have increased 1.4 points even as more students take the test each year, and New Orleans students have passed the state average for college enrollment. As someone who worked in New Orleans before and after Katrina, I am convinced that giving school leaders the flexibility to meet the needs of their students has been a positive change for the city's children. That's why I find these negative assumptions about New Orleans schools to be so frustrating and so false. While education reform critics claim charter operators only care about making money, I have never met a school leader in this city who wasn't focused on improving student outcomes and building strong communities. When critics claim that charters threaten our city's traditions, I know they haven't met Chris Herrero or Jahquille Ross. Chris graduated from Edna Karr prior to Katrina. He enrolled at Jackson State and majored in music education. Following his graduation, Chris returned to Karr to serve as band director. Last month, he marched in nine Mardi Gras parades with parents, teachers and 165 Karr band members. Chris does not stay late at school with his band or march in those parades because he thought it was going to make him rich. He does it because he wants to teach students how to read music and continue the legacy of incredible marching bands that power Mardi Gras parades and local high school events. Jahquille was the valedictorian at Karr before heading to Tuskegee University. Jahquille excelled at Tuskegee and could have chosen to do almost anything. However, he, too, felt called back to New Orleans to teach. So after his graduation last spring, he joined Teach for America and returned to New Orleans to teach second grade. Because of his own experiences as student body president in high school and as president of the NAACP chapter at Tuskegee, he volunteered to mentor Harte's student government after school. For Jahquille, this wasn't a difficult decision. As he regularly tells people, "New Orleans is my home, and I believe our students deserve the best." Chris and Jahquille are two examples of local educators at Karr and Harte who are driving our network's success while remaining connected to the city's cultural heritage. However, they are not remotely alone. Our teachers, staff and leaders work incredibly hard to ensure that students are supported with wraparound services and are challenged in the classroom. Additionally, they attend community meetings and local church gatherings, make sure the basketball gym is available for neighborhood teams, and support our clubs, bands and sports teams alongside parents and neighbors. We know that schools can only be successful if they are vital parts of the communities they serve. Thus, we act on that belief every day—a fact that most national critics dismiss without ever stepping foot in one of our classrooms. Too often, we look at how New Orleans' educational reforms have affected adults. Instead, we should look at how those reforms are transforming our youth and their aspirations. Students motivate themselves and their classmates to graduate from high school, finish college and give back to New Orleans. We know that our city's schools have a long way to go before they are all excellent, but claims that charter operators don't care about students and don't honor the city's traditions dismiss out of hand the hard work done day in and day out by New Orleans educators. If these critics would like to see examples of the city's reforms working for students, I invite them to visit New Orleans and come see our schools, instead of making assumptions about a system they have not seen and do not understand.

Jamar McKneely is chief executive officer and co-founder of InspireNOLA. He spent seven years as a teacher and assistant principal at Edna Karr High School before becoming principal of Alice Harte Charter School.

Jamar McKneely is chief executive officer and co-founder of InspireNOLA. He spent seven years as a teacher and assistant principal at Edna Karr High School before becoming principal of Alice Harte Charter School. In 2013, together with the principal of a nearby high school, he created InspireNOLA charter schools, a new organization that manages two schools. He earned both a bachelor's degree in ...