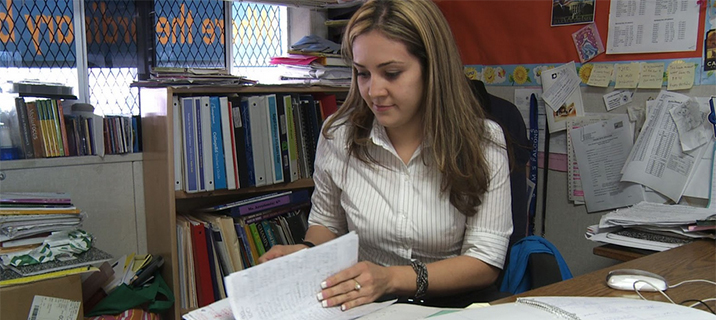 California Dreamin': A Better Future for Teaching
The only surprising news about California's current "teacher shortage" is that anyone is surprised by it.
California laid off over 80,000 teachers between 2008 and 2012, when our state's budget was in recession-created dire straits. Who was laid off was dictated by "LIFO," which stands for "last in, first out." This meant that tens of thousands of teachers who spent their own time and money to earn a teaching credential were just getting started when—whoops! sorry!—even if they were fantastic or on their way to being a fantastic teacher, they were outta there.
With no consideration for ability, effort or success, spring after spring these new and recent hires were summarily handed pink slips, then sometimes hired back in the fall (after spending all summer looking for new jobs)—often not. Of course, since new teachers are paid the least, more of them had to be laid off to meet budgetary goals.
With recent college graduates representing
40 percent of our nation's unemployed
, it would seem like a great time for new teacher recruitment, despite the low starting salaries or the often vitriolic tenor of the wars over testing and teacher accountability.
Unfortunately, at least here in California, most recent college grads are not giving teaching a second look. During the same period as the LIFO layoffs,
enrollment in teaching preparation programs dropped
by some 55 percent. This is not a surprise; it's rational decision making.
Think about what potential teachers also witnessed during these years on top of the "LIFO lay-offs":
A veteran teacher in Los Angeles was discovered to have been blindfolding third-grade students and feeding them his semen. He photographed this; it's not in question. But when Mark Berndt contested his dismissal, the district ultimately had to

pay

him to drop the appeal.

In response to this and other surreal cases, State Sen. Alex Padilla introduced a bill to make it easier to fire teachers accused of egregious conduct. Opposed by the California Teachers Association, Padilla's bill died during the summer of 2012 when two Democratic Assembly members

voted no

and four abstained (that's a cowardly "no") from voting.

Six months later, a state audit showed that in some 60 other settlements like Berndt's, teachers accused of misconduct had been

paid

a total of more than $2 million to walk away. State Sen. Padilla introduced a second bill, and again it was killed.
Berndt is now in prison and a lighter version of Padilla's legislation eventually
passed last year
, but this story illustrates the greater problem, which has yet to be resolved. Despite the State Supreme Court ruling in
Vergara vs. California
that
LIFO is unconstitutional
, the teaching profession continues to push new and recently-hired teachers away while protecting those already in the system, regardless of the cost to students and taxpayers.
There are certainly other factors exacerbating California teacher shortage, but in much of the
mainstream reporting
, there is
little to no mention of the role LIFO has played, let alone efforts to ensure teacher ability and effectiveness become higher priorities in determining who remains in our classrooms.
New to the Game
In 2009, I interviewed three fairly new California teachers working in traditional public schools. They were exactly the kind of people the profession should be bending over backwards to get into classrooms: smart, hard-working, great with kids and passionate about teaching the students who have been historically underserved by our system.
Two of them taught in bilingual classrooms, one was a science teacher, and one had come to teaching as a career change. They went through traditional programs to become teachers and helped create new and innovative programs at their schools.
And each of the three, at some point after we filmed them, was pushed out of the system solely due to their date of hire. Their lives were sent into a tailspin simply because they had less seniority than someone else.
One of the teachers, Pearl Arredondo, spoke of the budget crisis that resulted in teacher layoffs. She said:
W

e were hit with the LIFO issue and people like me, who had been teaching for over six years, still got a pink slip every spring for three years in a row. So, after years of low wages, budget cuts, no stability in the (job)...and an increase in college tuition, it caused less and less people to want to go into teaching.

Why would anyone want to spend four-plus years paying and studying for a profession that doesn't pay well and isn't even hiring?
My short film,
The Blame Game
, developed from the interviews with these teachers who now, six years later, have fortunately landed on their feet and back in schools. Pearl (who became a
bit famous
from the film) now serves as the principal of a pilot school she helped found, while Steve and Amber are happily teaching in new schools. This is a beautiful thing.
I wish it wasn't such a miracle.
Kelly Amis founded Loudspeaker Films in 2009 to combine her passion for social justice and education equality with her love of art and belief in the power of film.
After graduating from Georgetown University, Kelly taught in South Central Los Angeles as a charter corps member of Teach For America. She went on to earn an masters in education policy from Stanford University and researched Australian education as a Fulbright Scholar. Kelly has worked for U.S. Senator Dianne Feinstein and many non-profit organizations including Fight For Children, the Thomas B. ...