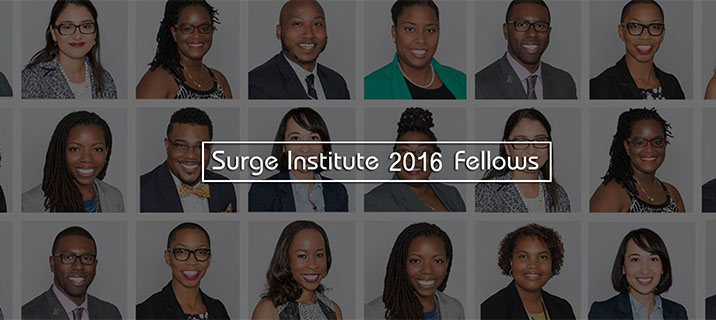 Black Like Them: Why a 'Surge' of Color Could Change the Face of Ed Reform
Last year, I substituted a couple of times in a third-grade class that had two little black girls in it amid mostly Latino and a few white children. All the kids loved me for introducing them to the Roald Dahl book "The Witches," but afterwards I noticed something: While the other kids in the class eagerly waved at me while passing in the hallway, those two little black girls went out of their way to give me a hug every time they saw me. That's the power of affinity. I got excited hellos from the kids who enjoyed having me as their teacher, but I got a running embrace from the girls who from someplace deep within their 8-year-old souls needed me to be black…black like them. This year, in a school with a staff of 60, there's just me, one paraprofessional, and an all-black kitchen staff. I make no excuses for that. It is what it is. These little black girls filled the void with hugs that said, "Mrs. Rhames, please don't leave us. We need you."
Surprise, Surprise
I've written many times about the personal complications of being an African-American teacher in a profession that is 82 percent white, and the impact it is having on children of color who are now 50.2 percent of the national public school population and upwards of 80 percent of kids learning in urban districts, like mine in Chicago. But the racial disparities go all the way to the top: A 2010 survey of more than 1,800 school superintendents from all 50 states found that only 2 percent identified as African American and 2 percent as Latino. In essence, we have upper-middle class white people who usually live in predominantly affluent, white communities controlling the educational options of millions of disenfranchised black and brown children who usually live in impoverished, racially segregated communities. Why then are we baffled that, despite our well-intended reforms, there's such a persistent achievement gap between black and white children? The gap starts at the top and cascades, not trickles, down.
No More Tired Excuses
Thankfully, I've been selected as a new Surge Fellow to help reverse that trend. Surge seeks to remove the tired excuse that highly qualified African-American and Hispanic education leaders are hard to find. We've always existed, and Surge is laser-focused on equipping us with skills for greater success and then making our presence and worth undeniable. Surge is an authentic for-the-people-by-the-people ed reform movement, not the outside-pushing-in style of reforms we see today. Justin Cohen said it best in his Citizen Ed piece entitled If People of Color Aren't Leading It, the Ed Reform 'Movement' is a Myth. He wrote:
Men and women of color led the civil rights movement and are leading the current movement for racial justice, which includes Black Lives Matter. Gay men and women led the fight for marriage equality. Women led the movement for women's suffrage and equal rights, and women are still leading efforts for gender equality. When set in the context of these other movements, it seems crazy that a movement to improve the educational outcomes for children of color would be led by white technocrats, but that's what education reform looks like right now.
I am cognizant that the margin of error for leaders of color is close to zero, while mistakes made by my white colleagues are more easily chalked up as a "learning curve." With such high stakes on the line, Surge vets its fellows stringently and sets the bar high for our participation.
Expanding the Boundaries
But we are far from monolithic. Our two-day retreat last month revealed the great diversity of perspective and experience among the 13 fellows: We are researchers, principals, lawyers, teachers and non-profit workers. Together, we expressed our frustrations about the revolving door of leadership in Chicago Public Schools (CPS) and guilty plea of corruption by the district's former CEO Barbara Byrd-Bennett. We analyzed the pros and cons of the Brown vs. Board of Education school desegregation decision and compared the actions of the Little Rock Nine in 1957 to that of the Chicano student walkout in 1968 in Los Angeles. We deconstructed Dr. Martin Luther King, Jr.'s Letter From a Birmingham Jail and wrestled with it in the context of today's Black Lives Matter movement. Each month following the retreat, Surge fellows will attend a day-long professional development session. This month, Elaine Allensworth, director of the University of Chicago Consortium on Chicago School Research—chronicled ed reform in the city from 1988 to now—and Nicholas Pearce, professor at Northwestern University's Kellogg School of Management, taught us the fundamentals of effective negotiation.
Making an Impact
All these discussions and seminars will help Surge Fellows complete our capstone projects: independent, entrepreneurial ventures designed to make the greatest impact on CPS students. The inaugural Surge cohort's capstone projects, for example, include exploring the feasibility of starting an all-girls charter school in Chicago; creating a holistic mentoring program for adolescent males who have experienced violence and trauma; and adopting ninth-grade on-track metrics for middle-school students so that teachers and counselors can push college readiness earlier. I imagine my capstone will have something to do with those two little black girls who kept wrapping their arms around me in the hallway. I see my past self in them, and their hugs tell me that they see their mother, their aunts, and maybe even their future selves, in me. That's how you change a community of learners—you become like family to them. If Chicago and other urban districts ever hope to see significant academic gains among low-income children of color, we need a "surge" of family-like connections emanating from the classrooms. We need leaders of color, excellent in character and competency, adequately represented at the helms of schools and in every facet of public education, all the way up to the U.S. Department of Education. Now that's what I call a revolution! I'm so excited and eager to #LeadTheSurge.

Marilyn Rhames is an educator and award-winning writer in Chicago. A classroom teacher for ten years, she currently serves as the alumni support manager at a K-8 charter school. Rhames is a former reporter and now weds her journalism skills to her unique insights on education. She has been published in The New York Times, Huffington Post, Education Week, and Education Post. The founder of the nonprofit Teachers Who Pray, Rhames is a current Surge Institute Fellow and a frequent guest on Moody Radio Chicago.

Marilyn Anderson Rhames is an educator, writer, thought leader and social entrepreneur. She is founder and CEO of
Teachers Who Pray
, a faith-based nonprofit that has more than 100 chapters nationwide. She is also the author of the upcoming book, "The Master Teacher: 12 Spiritual Lessons That Can Transform Schools and Revolutionize Public Education." ...