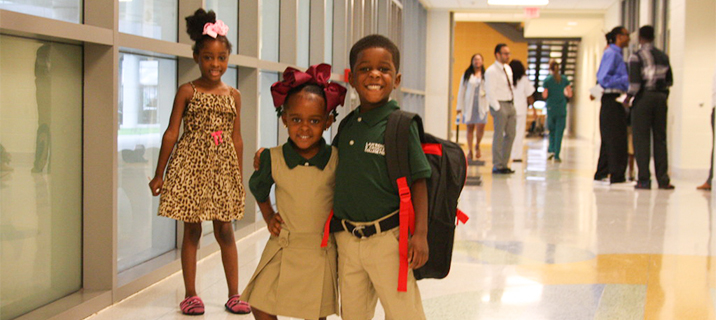 Adaptability Is Key to Continuing the Gains for New Orleans Schools
A bevy of
commentaries
have shared
lessons learned
since Hurricane Katrina hit New Orleans a decade ago. Amid all this reflection, the school system's adaptive nature is an underappreciated driver of its resilience and success.
A city served entirely by charters will get many things right if they are approved by a diligent authorizer. It will also get some things wrong. The Recovery School District (RSD) and a growing ecosystem of surrounding groups and leaders have adjusted and responded to emerging shortcomings. Moving forward, I hope the city's culture of adaptability can help it address one of the challenges getting more attention lately: a sense of disempowerment.
Reasonable observers conclude that academic performance in New Orleans has
improved dramatically
, perhaps more than any other urban setting in America.
In examining academic improvement,
fewer schools are failing, test scores have increased, graduation rates are higher and more graduates are going on to college
.
At this point, anyone arguing that New Orleans has not seen real academic progress should be required to define exactly what academic improvements they would accept as evidence and to identify a city that has met their standards.
They Don't Really Care About Us
Some important things did not go well at first, and
performance is not yet as strong
as it should be. Challenges included some failing charter schools; families frustrated by the logistics of choosing schools; inconsistent approaches to expulsion that pushed too many kids out of school; and schools that were unable to serve all students with disabilities well.
Members of the black community continue to express frustration that, as Dr. Howard Fuller explains, reform has been done "
to us, not with us
."
This sense of disempowerment has different symptoms. Many local teachers lost their jobs when traditional schools closed and were replaced by people new to the area working in charter schools. Key decisions about the schools remain under the governance of a state agency rather than the local district. The diffuse governance required to oversee scores of charter schools, each with their own governing board, provides many new ways for people to give feedback on their schools. However, it also reduces the impact of common organizing activities historically used to influence traditional school boards.
Empowerment comes when each school deeply engages students' families through widespread and meaningful participation in school-level governance, along with expanded leadership and teacher recruitment and support.
Identifying Challenges, Finding Solutions

In New Orleans, the RSD and its broader community of reformers now have the capacity and incentive to address lingering problems. Because the traditional system is gone and has been replaced by a charter-based system, everyone in the city may have more flexibility to turn to solving problems

The RSD closed low-performing schools. It now must consider what to do with schools that are under-performing, but not bad enough to be shuttered. More charter "restarts" may help. Faced with frustration over how families applied to schools, New Orleans established one of the nation's first "single-application" systems, allowing families to submit one application that lists all their preferred schools rather than applying to each school individually. Families still need attractive options to choose from in their neighborhoods. With too many students being expelled, and families angered by the inconsistencies in behavior policies, the city adopted a consistent approach to expulsion. While fewer kids are being pushed out, there are too many youth who remain out of school. Special education services still need to improve, but the state and the city took on new approaches to special education services and funding that better help students.

These issues are tricky and these solutions will need adjusting. But an adaptive nature appears to be embedded in the culture of New Orleans now; and it seems that people who identify problems will be heard. Other communities should consider how to create their own responsive approaches to schooling—ideally without a tragic and destructive hurricane.

Children in New Orleans are doing much better today than they were a decade ago. The city's schools are on a path of improvement that has been truly impressive, even if there is still a long way to go in providing the educational outcomes and school experience that all children deserve.

The RSD and all the groups and people traveling this path seem willing to listen, learn and change along the way. An adaptive and responsive city will continue changing to achieve what parents demand for their children. We should all be hoping they succeed, helping however we can and learning from their work.

Alex Medler is a national expert on charter school policy who has worked in education reform since the earliest days of the charter movement.

Alex Medler is Senior Director of the National Charter School Resource Center (NCSRC) with Safal Partners. Medler is a national expert on charter school policy who has worked in education reform since the earliest days of the charter movement. Through Safal Partners, Medler also advises foundations, state education agencies, charter authorizers and other clients in the U.S. and overseas. Prior to ...