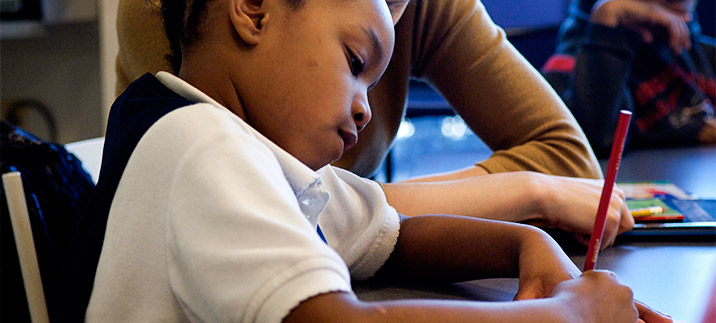 11 Voices Standing Up for Annual Testing in ESEA
Yesterday, parents, educators and policymakers from around the country travelled to D.C. to attend a Senate hearing on the role of testing in the federal government's education law. We rounded up some of the many voices who spoke out on the Hill and beyond:
The Leadership Conference on Civil and Human Rights tweeted pictures of parents who travelled from across the country to meet with their senators on the Hill. They used the pointed hashtag #AllStudentsMatter.

https://twitter.com/civilrightsorg/status/558007172404346881 https://twitter.com/civilrightsorg/status/557931492379475968

Wade Henderson, head of the Leadership Conference on Civil and Human Rights, testified at the hearing, laying out a number of recommendations for a revitalized ESEA that serves the law's original intent of providing vulnerable populations with educational equity:

Significantly, the ESEA was enacted 50 years ago in 1965 and was a pillar of President Lyndon Johnson's War on Poverty. Congress recognized then—and has for the past five decades—that children living and going to school in poverty, and especially those living in concentrated poverty need more, not fewer, resources than their more advantaged peers. Education is even more important today, and our children need more of it to succeed in life.

https://twitter.com/civilrightsorg/status/557919384229142528

Khulia Pringle, a mother from Minnesota who attended the hearing, agrees that annual testing is necessary:

To me, it's like a life-or-death situation. Without those tests, I wouldn't know. And if I don't know, then I can't help.

https://twitter.com/SFERnational/status/558349873050050560

Sen. Patty Murray, D-Wash. (the ranking member on the education committee) was clear that moving away from annual testing is a move backward for students.

https://twitter.com/HELPCmteDems/status/557913271064625154 https://twitter.com/HELPCmteDems/status/557912183703887872

Sen. Elizabeth Warren, D-Mass. (alongside Sen. Murray) has made it clear that (according to EdWeek):

Annual tests should be required for accountability purposes if the federal government is giving states billions of dollars for their education systems.

https://twitter.com/Andrelamme/status/557929602593861632

Dr. Marty West, former adviser to Mitt Romney and education policy counselor to Sen. Alexander, argued that the greatest contribution of No Child Left Behind is the transparency it provided:

[NCLB]'s requirement that students be tested annually...has provided parents, teachers, and other citizens with essential information about students' performance in these foundational subjects…. This information has called attention to gaps in achievement along lines of race, ethnicity, and class across entire states and within specific schools; it has ushered in a new era in education research; and it has made it possible to develop new indicators of schools' performance based on their contribution to student learning.

https://twitter.com/ProfMartyWest/status/557902092741136384

Tom Boasberg, superintendent of Denver Public Schools and a father of three, described annual testing and the transparency it provides as "vital" to improving education.

https://twitter.com/EdProgress/status/557927365402435584

The Alliance for Excellent Education urged Congress to "work on a bipartisan basis to draft a law that upholds the principles of accuracy, equity, and excellence"

Statement from @BobWise48 on Plan to Fix No Child Left Behind http://t.co/RQrAEE2lta #NCLB #edchat @arneduncan @usedgov

— All4ed (@All4Ed) January 21, 2015

The Education Trust tweeted and blogged about the importance of moving forward with annual testing, noting:

When students take a statewide assessment each year, educators and parents get a clear report on how those children are doing—information that's comparable with their peers in school, within the district, and across the state. Without uniform annual statewide assessments, educators and parents lose that regular, objective lens.

https://twitter.com/EdTrust/status/558020714113277954

The National Alliance for Public Charter Schools released a statement which applauded those who testified in support of annual assessments:

Statewide annual assessments support parents by equipping them with the information they need to choose a high-quality public school for their children. They also empower teachers and schools by informing them about student achievement and progress. Without statewide annual assessments, the public won't have a clear picture of how our schools are performing or how our students are progressing.

https://twitter.com/charteralliance/status/557942452439379969

The Black Alliance for Educational Options also spoke out, sending an open letter to Sen. Lamar Alexander, as well as asking its members to send word to their senators about the importance of keeping annual testing in ESEA.

Vibrant and successful programs for providing parents with educational choice are largely dependent upon access to data on student and school performance. Parents should not only have the ability to choose, but the ability to choose greater quality. Therefore, providing them with timely and objective information that they can use to compare student and school performance and to determine whether schools are preparing students to be college and career ready is essential.

https://twitter.com/ntlBAEO/status/557956181977993217

Valentina Payne joined Bellwether Education Partners in 2021 as chief of staff to Andy Rotherham on the External Relations team. Prior to Bellwether, she spent seven years at brightbeam, where she most recently served as its chief growth officer, overseeing operations, finance, fundraising, and strategic growth of the organization.